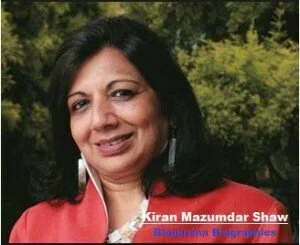 Kiran Mazumdar Shaw is richest woman in India and is among the top leading Indian Entrepreneurs. She is currently working as the chairman and Managing Director of Biocon Limited. Biocon Limited is a Biotech Company situated in Bangalore. She is also the Chairperson of Indian Institute of Management, Bangalore. This leading lady has a success story which is an inspiration of many. When she was about to start her Biotech Company, no one came forward in support or work for her. But presently, this woman has made into the richest women in India.
Kiran Mazumdar Shaw was born 23 March 1953 to a family of Gujarati parents. She was raised in Bangalore and completed her schooling from Bishop Cotton Girl`s High School in the year 1968. After that she has completed her honours degree in Bachelors of Science Zoology from Mount Carmel College in 1973. After that she completed her post graduation working as a brew master in Brewing and Malting in Ballarat College of Advanced Education in the year 1975.
Before starting Biocon in 1978, she has worked for Jupiter Breweries Limited as a technical consultant. Before that she also has worked as a trainee brewer in United and Carlton Breweries. Her company Biocon started manufacturing industrial enzymes and establish itself as a fully equipped bio pharmaceutical company. They also carry research work on auto immune diseases and diabetes.  With her determined mindset, she has put the Biocon Limited to grow leaps and bounds. Biocon Limited is the first Indian Company which exports enzymes to countries like Europe and USA.
Kiran Mazumdar was married to John Shaw at an age of 44 who is a Scotsmen and Indophile. He is the current Vice Chairman of Biocon Limited. Earlier he was heading a leading textile MNC, Madura Coats as a CMD. She has said that marrying at an age of 44 is her choice as her work is so important to her. She does misses having a child but she is happy of what she has achieved.
Kiran Mazumdar Shaw has been accredited with many awards like Othmer Gold Medal in 2014 for her outstanding contributions in the progress of chemistry and science. She has won Economic Times Award in 2004 for the Business woman of the year. She has won the Ernst and Young`s Entrepreneur Award in year 2002 for Life Sciences and Healthcare. Forbes has also listed as the 92nd most powerful and influential woman in the world.